Criminal Justice Handbook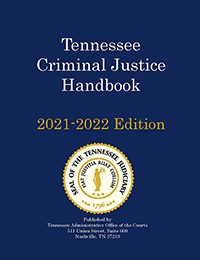 2021-22 TENNESSEE CRIMINAL JUSTICE HANDBOOK
The 2021-22 book is now available for purchase!
Click here to order online.
Click here to order. Please download the form to enable the fillable feature.
If you have any questions please feel free to call 615-741-2687.
Please note, because of worldwide supply chain issues affecting the printing industry and shipping delays worldwide, the costs of producing and shipping the Criminal Justice Handbook increased this year. As a result, we have reduced the cost of the PDF version. We anticipate the printed versions will be available to ship in late October.