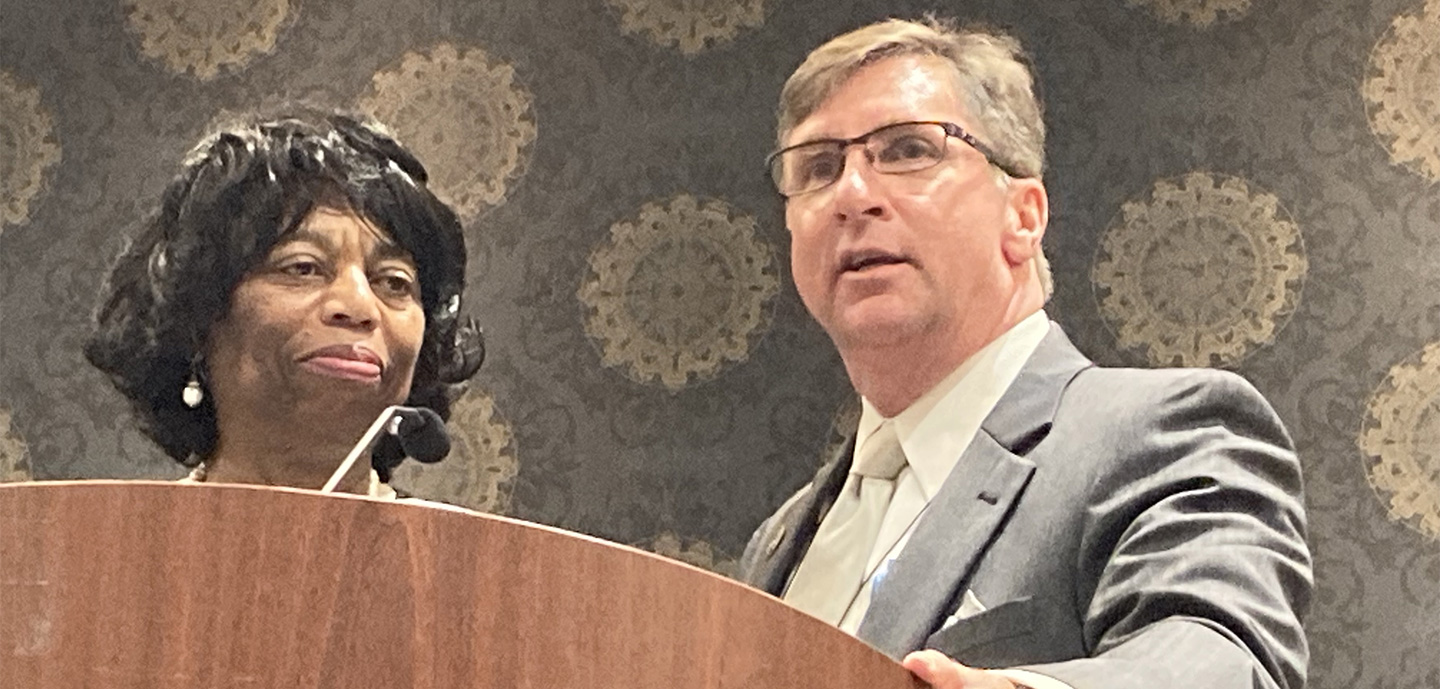 Judge James Y. Ross, Wayne County General Sessions & Juvenile Court Judge, was recently elected president of the Tennessee General Sessions Judges Conference (TGSJC).
"I've been on the executive committee for a long time, so I know what I'm getting into," said Judge Ross.
Outgoing TGSJC President Judge Deborah Henderson, Shelby County General Sessions Judge, announced her successor who, in turn, sang her praises.
"I hope I do as good of a job as Judge Henderson has done carrying us through some tumultuous water of this past legislative session," said Judge Ross. "I'll tell you all, as a member of the executive committee, she was often up early in the morning and late in the evening trying to get the executive committee together to discuss some new legislation being proposed and to encourage us to make decisions that were going to be beneficial to our conference. She's done that and I just hope can do as good of a job as she does. Thank you so much for everything you've done for the conference."
One of his goals is to encourage all of the judges to be involved in conference more regularly.
"I'm hoping to try to recruit some new faces into the committees so that those of us who are older or phasing out, we've got some new judges who are willing to assume the duties that we've exercised for years – executive committee, legislative committee, education committee, long-term planning committee. I'm hoping that we are going to stay active with the General Assembly," said Judge Ross. "There are and have been a number of bills that affect the General Sessions judges that were offered last year and were tabled until summer session. They may be coming back. I think we need to actively participate and encourage the General Assembly to enact good solutions to the problems we're trying to address."
Judge Ross also hopes to tackle some issues affecting part-time judges.
"I'm hoping to address a few issues of jurisdictional overlap for some of the general sessions judges that are part-time, as it relates to orders of protection and other domestic relations jurisdictions," he said. "There's been confusion with a statute. I can hopefully present a simple bill that will clarify this issue for those judges. Other than that, we've got a pretty well-oiled ship and I want to keep it running straight."
As for the annual conferences, Judge Ross is impressed with the active leadership roles many of his colleagues have assumed over the years.
"I think we've done a lot with regard to trying to get everybody involved and paying their dues, and making sure we've done the obvious to make us be heard by the General Assembly, and actively participate in the legislative process to the extent that they want us to and we feel we need to," he said. "For the most part, I think that we're fortunate in that we do have a good relationship with the General Assembly and Governor's office, and I want to preserve that and make sure that that continues for the future."
Although Judge Ross jokingly said congratulations on his new role could be more like condolences, depending on how you look at it, he is honored to be appointed president.
"I want to thank the conference for the confidence they've placed in me to serve in this capacity," said Judge Ross. "I look forward to serving them and to working to ensure that our conference remains viewed as a group of judges that take their job seriously and work hard to preserve justice in the state of Tennessee."
Judge Ross received his Juris Doctorate from the Samford University Cumberland School of Law in 1987, after which he entered the practice of law. In 1998, he began serving as a part-time judge for two cities and then he was elected to the General Sessions bench in Wayne County. During his tenure on the bench as General Sessions judge, he has continued to serve as city judge for the Clifton City Clerk and the city of Collinwood.
Judge Ross taught as an adjunct professor at the University of Tennessee, Paris campus, from 2009 – 2011. He is also an active participant in the DARE program.
Prior to assuming his new role, Judge Ross served as the Tennessee Municipal Judges Conference (TMJC) President. He completed that term of duty in November.