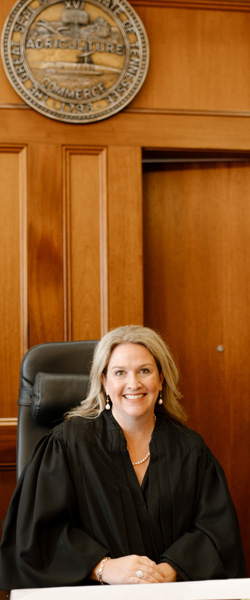 Memphis Circuit Court Judge Valerie L. Smith was recently elected by her colleagues across the state to serve as president of the Tennessee Judicial Conference, which is comprised of all state trial and appellate judges. For the first time in the organization's history, the president's gavel was passed from woman-to-woman with Judge Smith's election. She is the fourth female to lead the state judges and the first from West Tennessee. She leads her first Judicial Conference this month.
Judge Smith has earned a reputation for getting things done. She is committed to serving her community and the wider judiciary. She was appointed to the bench the same week as the March 2016 judicial conference which she attended before she even sat on the bench.
"A few days after I was appointed, I attended my first judicial conference. While I was there planning my campaign, I was asked to serve as conference hospitality chair and did so for two years. I have served many different roles in the judiciary since" Judge Smith said. "I have learned how important it is that the members of the judiciary work together and support each other. No one can understand a judge's role like a fellow judge. Our job is to make difficult decisions when others either cannot or will not and try to make the process run smoothly."
Judge Smith worked on multiple judicial and local elections in and around Memphis before taking the bench there. It was work she found very important. Seeking an appointment and running her own election came after words of encouragement that she holds dear.
"A courtroom clerk who I deeply respect, Carlyse Peete-Artman, encouraged me to apply for the judicial vacancy in 2016. I was surprised and humbled. It was not on my radar at that point, but I also knew that whoever was appointed would have to be well-qualified and have the dauting task of assembling a campaign in a matter of, days" Judge Smith said. "I knew I was qualified, and I knew how to quickly organize and get a campaign up and running. After reflecting and praying about the seed that Carlyse planted, I went for it, and was fortunate to be appointed and make the transition from lawyer to judge."
On her first day on the bench, a young boy was scheduled to appear before her to ask for funds from a trust to pay for an expense. He was too nervous and untrusting to go inside the courtroom. Taking off her robe, Judge Smith went to him and talked to him about coming inside. He did not realize she was the judge and, when he did, they walked together into the courtroom.
"It turns out that young man and his guardians were asking for funds for an instrument," Judge Smith said. "He returned recently to tell me he will be attending college on a music scholarship this fall. It is incredible to me the impact judges can have on those who appear before us."
Born and raised in Tipton County, Judge Smith attended undergraduate and law school at the University of Memphis. After graduating from law school, she spent seven years in the Shelby County District Attorney's Office, handling cases ranging from misdemeanors to first-degree murder.
"I learned how to be a trial lawyer by watching and working alongside some of the best trial lawyers in Tennessee," Judge Smith said of her time at the DA's office. "Working at a place like the DA's office is invaluable to any young attorney. It teaches you docket management and how to manage a large volume of cases. ADAs spend a lot of time in the courtroom each week and know the rules of evidence and procedure inside and out."
After leaving the DA's office, Judge Smith continued to focus on trial work, trying cases throughout West Tennessee. For her, what changed in moving from public service to private practice was the ability to be involved in more bar association activities and community organizations. When she joined the bench to serve as a judge, she expanded her involvement in those organizations.
which is the same as saying through shrinking from toil and pain. These cases are perfectly simple and easy to distinguish. In a free hour, when our power of choice is untrammelled and when nothing prevents our being able to do what we like best, every pleasure is to be welcomed and every pain avoided.
"I find being involved in different boards energizing- whether they are community based or law-related. I am not one to sit back and wait for things to work out," Judge Smith said. "If you want something done differently, get involved and be willing to work to make it happen."
In 2020, Judge Smith was president of The Leo Berman, Sr. American Inn of Court in Memphis. For several years prior, she hosted the organization's holiday party, which always included a food drive for those in need. When the Covid-19 pandemic canceled the party, Judge Smith did not let it cancel the food drive.
"We set up in the parking lot of a golf course and did a 'drive-thru food drive'" she said. "We ended up raising five times more than we ever had before."
Judge Smith serves the community in a variety of ways. She and her husband are founding members of Section 901 Youth Athletic Fund which seeks to assist coaches with team expenses that might not be covered. "We saw a need, and together with friends, wrote a mission and formed a group to help coaches that we saw shouldering the expenses of kids in need."
Judge Smith was appointed by Tennessee House Speaker Cameron Sexton to serve on the Board of Judicial Conduct and sits on the executive board of the Tennessee Trial Judges Association having served as both its Secretary and Treasurer. She is the Treasurer of the Conference's Compensation and Retirement Committee.
Judge Smith serves the Memphis legal community as the AWA judicial liaison and is a past member of the University of Memphis Law alumni board. She is serving her second tour as the Memphis Bar Association's Judicial Chair for its annual bench/ bar conference. She is also a sustainer in the Junior League of Memphis, a member of Midtown Rotary Club, and has served for many years as the academic excellence advisor to the Gamma Zeta chapter of Alpha Gamma Delta sorority at the University of Memphis. She has previously served on multiple community boards including Spay Memphis, the Exceptional Foundation of West Tennessee, and as an advocacy chair for the American Diabetes Association.