Supreme Court Justice
Justice Roger A. Page was sworn in as a member of the Tennessee Supreme Court in February 2016 after he was appointed by Governor Bill Haslam and unanimously confirmed by the Tennessee General Assembly.  In August 2016, he was elected to serve until 2022, the remainder of the full term.  He was re-elected to an eight-year term in August of 2022. He is the first appellate judge to be selected pursuant to the Constitutional amendment approved by the voters of Tennessee in 2014.  Prior to assuming a seat on the Supreme Court, he served as an appellate judge on the Tennessee Court of Criminal Appeals from December 2011 to February 2016.  While on the Court of Criminal Appeals he wrote more than 330 appellate opinions.  Justice Page began his judicial career after being elected Circuit Court Judge in 1998.  He presided over both civil and criminal trials in the 26th Judicial District, which includes Chester, Henderson, and Madison counties, from August 1998 to December 2011. ​
Justice Page received his law degree with high honors in 1984 from the University of Memphis School of Law where he ranked 4th in his class. 
Before his experience on the bench, he was a law clerk for then-U.S. District Court Judge Julia Smith Gibbons from 1984-1985.  He was an associate at Peterson, Young, Self & Asselin in Atlanta from 1985-1987.  He practiced at Holmes, Rich, Sigler & Page in Jackson from 1987-1991.  He was an assistant attorney general for the State of Tennessee in Jackson from 1991-1998. 
Before his legal career, Justice Page was a chief pharmacist and assistant store manager for Walgreens in Memphis, where he worked from 1977-1984.  He received a bachelor's degree in Pharmacy in 1978 from the University of Tennessee College of Pharmacy in Memphis.  He attended the University of Tennessee at Martin from 1973-1975 after graduating from Chester County High School in Henderson.
Justice Page is President of the Howell Edmunds Jackson American Inn of Court and has been honored as a Tennessee Bar Foundation Fellow.  He has also chaired the joint Tennessee Bar Association/Tennessee Judicial Conference (TJC) Bench-Bar Committee.  Justice Page has served on the TJC Executive Committee, the TJC Compensation and Retirement Committee and co-chaired the TJC Legislative Committee.  As a trial judge, Justice Page served on the Tennessee Performance Evaluation Commission that evaluated all Tennessee appellate judges.
Justice Page's family has lived in West Tennessee for at least seven generations.  He is married to Chancellor Carol McCoy and has two sons and three grandchildren.  He is a member of First Baptist Church in Jackson, Tennessee.
Year Elected/Appointed
2016
Prior Judicial Experience
Elected Circuit Court Judge for 26th Judicial District (Chester, Henderson, Madison Counties) in contested election in 1998; Re-elected without opposition in 2006
Appointed to Court of Criminal Appeals by Governor Bill Haslam in December 2011.
Nominated to Tennessee Supreme Court in January 2016 by Governor Bill Haslam, Confirmed by General Assembly in February 2016.
Previous Employment
Assistant Attorney General, 1991-1998
Private Practice, 1985-1991
Law Clerk, Honorable Julia Smith Gibbons, Western District of Tennessee, U.S. District Court, 1984-85
Education
University of Memphis School of Law, J.D. with High Honors, 1984
Graduated 4th in Class, Herff Scholar, Law Review Articles Editor
University of Tennessee College of Pharmacy, B.S. Pharmacy with Honors, 1978
Membership(s)
Jackson Lions Club, Former President
Tennessee Bar Association
Jackson/Madison County Bar Association, Former member of Board of Directors
Chester County High School Hall of Fame Legacy Inductee
Tennessee Judicial Conference/TBA Bench Bar Committee Chair
Tennessee Appellate Court Performance Evaluation Commission: 2004-2008
Leadership Tennessee, Class VI, 2018-2019
Howell Edmunds Jackson American Inn of Court, Master, President 2017-2019
Tennessee Judicial Conference: Executive Committee; Legislative Committee; Compensation and Retirement Committee
Tennessee Bar Foundation, Fellow
Community Involvement
Former Chair of Madison County Baseball/Softball Commission
Dixie Youth Baseball Coach
Senior Olympics Softball, City Champions
Frequent Speaker to Civic Groups and Legal Groups
Frequent Presenter at Continuing Legal Education Seminars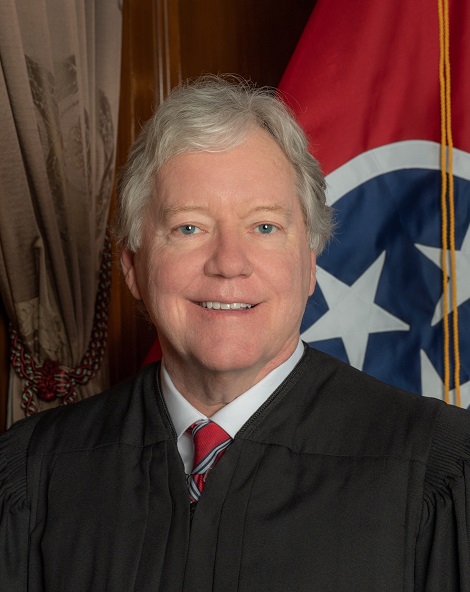 Contact Info
731-426-0861
Address
# 6 Highway 45 Bypass
P.O. Box 909 (38302-0909)
Jackson, TN 38301
United States